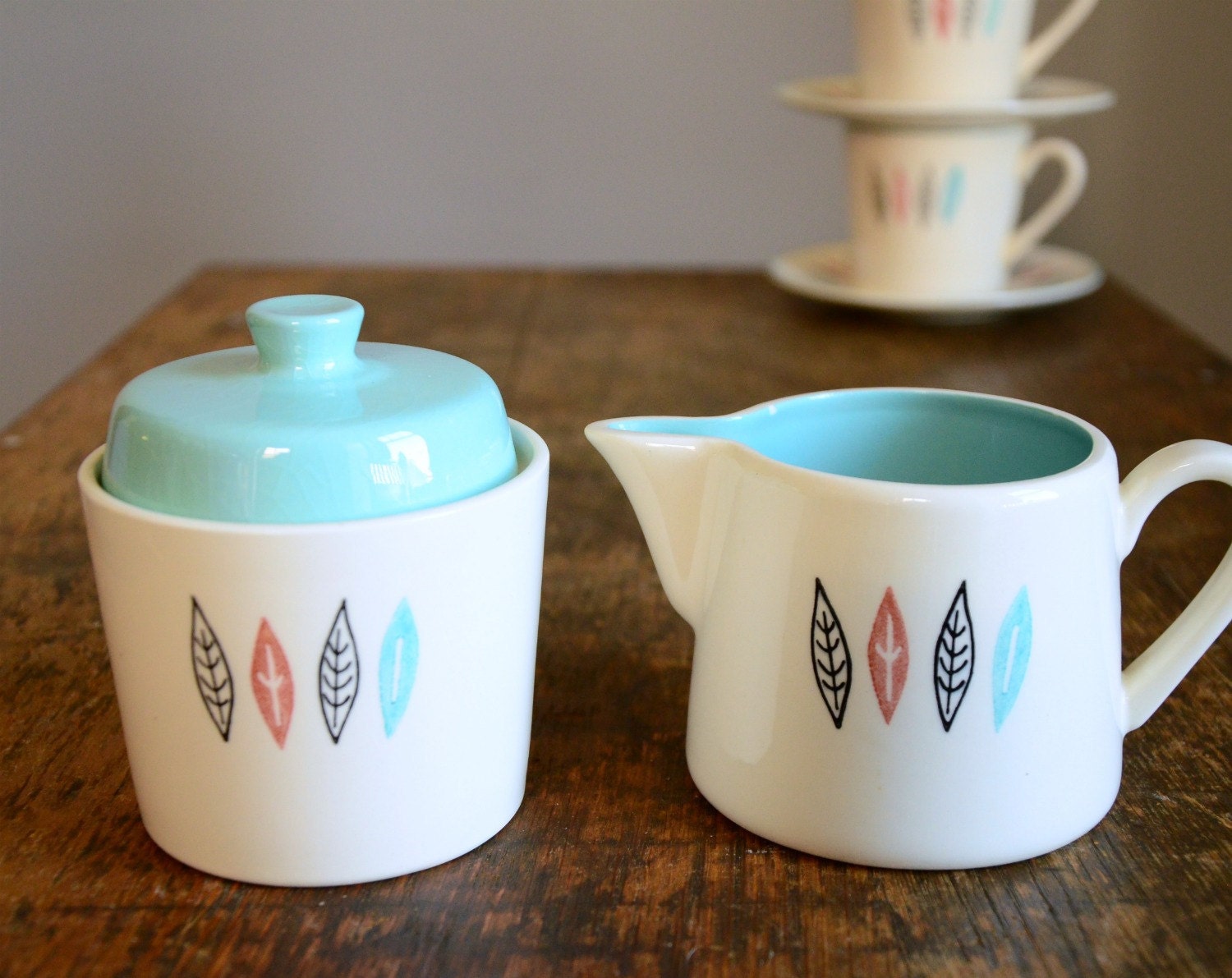 Nachdem ich gestern leichtfertig vom Artkikelnamen (… Nordic …) auf einen nordischen Hersteller dieses wunderhübschen Designs geschlossen habe, muss ich heute eingstehen, dass dem nicht so ist. Es handelt sich hierbei (nach ewig langer Recherche) um 2 amerikanische Hersteller, die sich das haben einfallen lassen:
Stetson China Company
"The Stetson China Company was founded in 1946 in Lincoln, Illinois and was in business until 1966. Their hand-painted dinnerware is very similar to that of Blue Ridge and is often confused with it. Neither company marked all of their pieces. Stetson is also "famous" for developing the Melmac dinnerware so popular in the 1960s. Some of the Stetson patterns are the same as Marcrest so we think there was some kind of connection between the two companies."*
Marcrest
"Marcrest is the name given to dinnerware that was manufactured for the Marshall Burns Company in Chicago, Illinois. Many different companies produced the dinnerware, among those is Western Stoneware Company. I believe that Stetson may have also produced for Marcrest since Stetson has the same pattern as the Marcrest Pink N' Charcoal ."*

Mir gefallen besonders die Nordic-Serie und die Swiss-Alpine-Serie.
Der Zuckerdose und dem Milchkännchen kann ich nur sehr sehr schwer widerstehen. Aber insgesamt 40 Euro für die beiden ist schon ganz schön happig… Dafür hab ich jetzt einfach den gestern gezeigten Teller für meine Tellerwand ersteigert. Mal sehen, ob mir die Versandkosten die Sprache verschlagen werden .. In diesen winzigen Augenblicken, die nur ganz ganz selten vorkommen, wünschte ich mir, ich würde mal wieder auf Geschäftsreise in die USA müssen. Dann schaue ich in zwei wunderschöne 2,5jährige blaue Augen und bezahle "gern" horrende Versandkosten.